Company
Innovative since 1818
DERICHS GmbH Verfahrenstechnik developed over the years from Derichs, the constructor of mills, founded in 1818. Mill construction is regarded as the cradle of modern machine construction and process engineering. Today creative ideas, long experiences and modern technologies are the fundament of a modern company of the mechanical process technology.
We employs with the production of reliable components as well as the planning and construction of complete plants for the processing of bulk goods.
A team of experienced engineers is there to supply our customers with the best equipment and the best technology at a fair price. They design state of-the-art systems, individual tailor-made to your product and your requirement.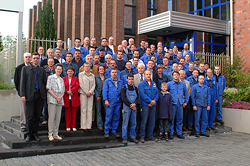 Your profit is our know-ledge, which we have acquired in many branches and countries. Our experience, in synergy with your ideas and your requirement, lead to a profitable plant.
You are planning a new manufacturing plant or do you want to optimize an approved plant? Let us talk about it. We are your partner, helping you to transform your demands into reliable and efficient plants. Our experiences, acquired during many years in all parts of Europe, ensure your advance in competition.